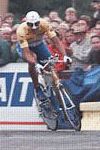 A tribute to Indurain. From the
Sunday Times
5/1/97.
Indurain made Tour his domain


IN THE heat of battle in the 1992 Tour de France, Claudio Chiappucci, a contender for cycling's biggest prize, articulated what the peloton felt but hardly dared admit. "Sometimes, I will tell myself that he's a bit of a Superman, or a Martian or some force from another planet, but not terrestrial, not like you and I," pondered the Italian. "I took a long time to confess this. Now, no-one can refute it. It is impossible to beat him."

That's how they used to feel about Miguel Indurain, for five unbroken years a study in infallibility, a freakish, superhuman presence in sport's equally superhuman three-week, seven-hours-a-day examination of physical prowess, mental strength and human spirit. Only last year, broken in the mountains and reduced to an also-pedalled by the time the Tour reached his home town of Pamplona, was the aura dented, yet when his retirement notices were penned last week, a churlish undercurrent could be detected.

"I cannot place him on the same level as his fellow five-time winner, Eddy Merckx," said Claude Jacquet, a senior official of the International Cycling Union. It was that old chestnut, the suggestion that because Indurain used to centre his entire season on the Tour and won just a single one-day Classic that he was not in the same league as the Belgian legend, who had the appetite to win every week of the year. The underlying comparison was that of some calculating metronome versus a complete master.

But ask those who rode with and against Indurain, and you get a different story. "To compare with the past is not helpful," said Sean Yates, the Briton who rode his last Tour in 1995. "Cycling has changed so much it's so much bigger, faster and more competitive that the intensity of the race quadrupled even over the dozen years that I competed that it's not possible today to win all year, as Merckx did. I think Indurain is the greatest cyclist we've seen, with physical capabilities much higher than anyone else's."

It may have been Indurain's misfortune to be almost too dominant. Like Michael Johnson carving out 400m win after 400m win with supreme inevitability, it was easy to take for granted how he would blitz the time trials and then sit there like a huge shadow, covering all moves in the mountains, somehow strangling the race's suspense. "Yet what he was doing was fantastic," said Yates.

"He didn't like the cold, he wasn't a great sprinter and he wasn't built for climbing yet, against all the odds, time after time, he would haul that huge 79kg frame up the slopes. Even Merckx had a bad Tour in between his victories; there's nothing you can compare five straight wins to."

The only criticism Chris Boardman has ever heard levelled at Indurain was that he was boring. "Boring? It wasn't boring, just amazing that a man could remain on that pedestal in the world's harshest sporting environment for so long," said Britain's greatest cyclist. He noted how, in his last couple of years, Indurain's normally deadpan expression gave way to a few theatrical grimaces: "He was doing it for press consumption, to show he wasn't a robot." Such is professional sport's monotonous demand these days for its finest exponents to be charismatic as well as champions that Indurain unquestionably suffered in the image stakes. Not in the eyes of his rivals, though.

Boardman remembers a man who would never dream of making a break just because a key opponent had suffered a puncture, who would refuse to contest a sprint finish if he had not contributed to the breakaway, who was happy to leave the glory to a Spanish teammate even in a world-championship road race: "He rode unselfishly, was absolutely honourable and was respected by everyone. Cycling has fewer and fewer men like him."

Yet, never mind that Indurain is one of the "greatest riders who ever lived", arguably even the century's most extraordinary athlete, Boardman's enduring memory is how, defeated and dejected, the Spaniard handled the humiliation of riding into a deluge of tears and sympathy in Pamplona last summer with remarkable dignity. "

He took it like a man, and that is the measure of the man," said Boardman. "Ultimately, I think he has made the right decision to retire; I don't think he had the capacity to go forward any more, but then he had nothing more to prove.

"It's the end of an era, a memorable era; there have been other great champions who have not been great people, but nobody ever begrudged a genuinely great sportsman like Miguel any of his success. We will miss him."